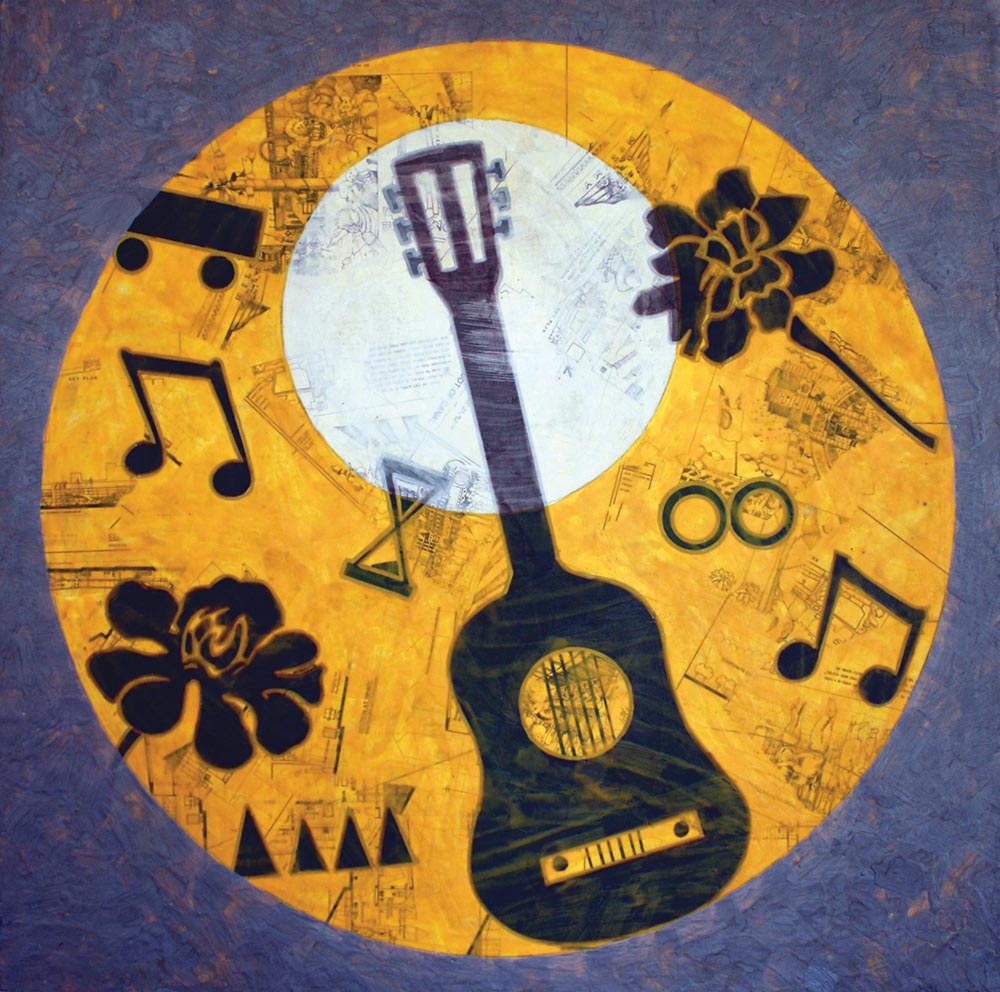 Lawson, John
John Lawson's earliest memories of experiencing art can be traced back to the figures and designs found in stained glass windows and mosaics of churches and synagogues he would visit with his father as a child. His use of Mardi Gras beads and more recently the "Figures in a Landscape" series clearly reflect this.
John began his career as an engineer working on ship building designs at Plymouth University in the U.K. He went to Louisiana State University on a student exchange program where he was encouraged to pursue his drawing and artistic abilities. After returning to the U.K. for a brief time, he relocated to the deep south and began working on tattoo and T-shirt designs.
In August of 2005, Hurricane Katrina destroyed his home and studio in New Orleans. 25 years of drawings, sketches, photographs and film were destroyed in the floodwater.
Lawson took the fragile remains and began his "Passages" series, "I realize disaster can strike each and every one of us anytime, anywhere and through this realization I gained a wonderful appreciation for the Life Force. All my work tries to capture this Life Force found in everyday experiences whether it be capturing the individual energy through portraiture or reflecting on a landscape through meditation.
Lawson's work has been exhibited throughout the USA and Europe and can be found in museums, private and corporate collections in Los Angeles, NYC, DC and New Orleans.
John makes his home in Berkshire County with his wife and son and rescue dog, "Sunshine."
Corporate and Private Collections
ARCH Development, Washington, D.C.
Santa Fe Art Institute, Santa Fe, NM
New Museum of Art, New York, NY
Dylan Thomas Center, Wales, UK
Ogden Museum of Southern Art, New Orleans, LA
American Visionary Arts Museum, Baltimore, MD
MTV, Los Angeles, CA
Brennans Restaurant, Disneyworld, Los Angeles, CA
Siezler Architects, New Orleans, LA
Wisznia Architects, New Orleans, LA
Montgomery Roth Architecture and Interior Design, New Orleans, LA
Monrose Row, New Orleans, LA
Offbeat Publications, New Orleans, LA
Shoefly, New Orleans, LA
Maritime Building, New Orleans, LA
The Union Lofts, New Orleans, LA
Chef Paul Prudhomme, New Orleans, LA
Gordon Bailey, Los Angeles, CA
Dr. A.B. Cronan, II; Lafayette, LA
Law Office of Louis Phillips, Baton Rouge, LA
Law Office of Andre  P. LaPlace, Baton Rouge, LA
Law Office of Madere and Associates , New Orleans, LA
Duane Gautier, Washington, D.C.
Louis Accorsi, NYC
Chris Grace, Sheffield, MA
Elizabeth D. Baldridge, New Orleans, LA
Andre Dubus, III, Newburyport, MA
Colin Lawson, Colchester, UK
Deb Jones, Tavistock, UK
Public Workshops, Lectures and Teaching
2013  Art/Collage workshop for students with Autism, Good Purpose Gallery, Lee, MA
2013  Collage workshop for students at Simon's Rocl Collage, Great Barrington, MA
2009  Art Workshops for inner city students, Honfleur Gallery, Washington, DC
2009  Poetry/Art Workshop, Montessori Middle School, Hartford, CT
2006  NY School of Visual Art, Artist Presentation and Lecture
2005  Pratt Art Institute, Artist Presentation and Lecture
2003-2005  Painting Workshops for Association For Retarded Citizens, New Orleans, LA
Other Gallery Affiliations
Dorian Grey Gallery  |  437 E 9th St, New York, NY 10009  |  (516) 244-4126
Honfluer Gallery  |  1227 Good Hope Road, SE, Washington D.C 20020  |  (202) 365 5586