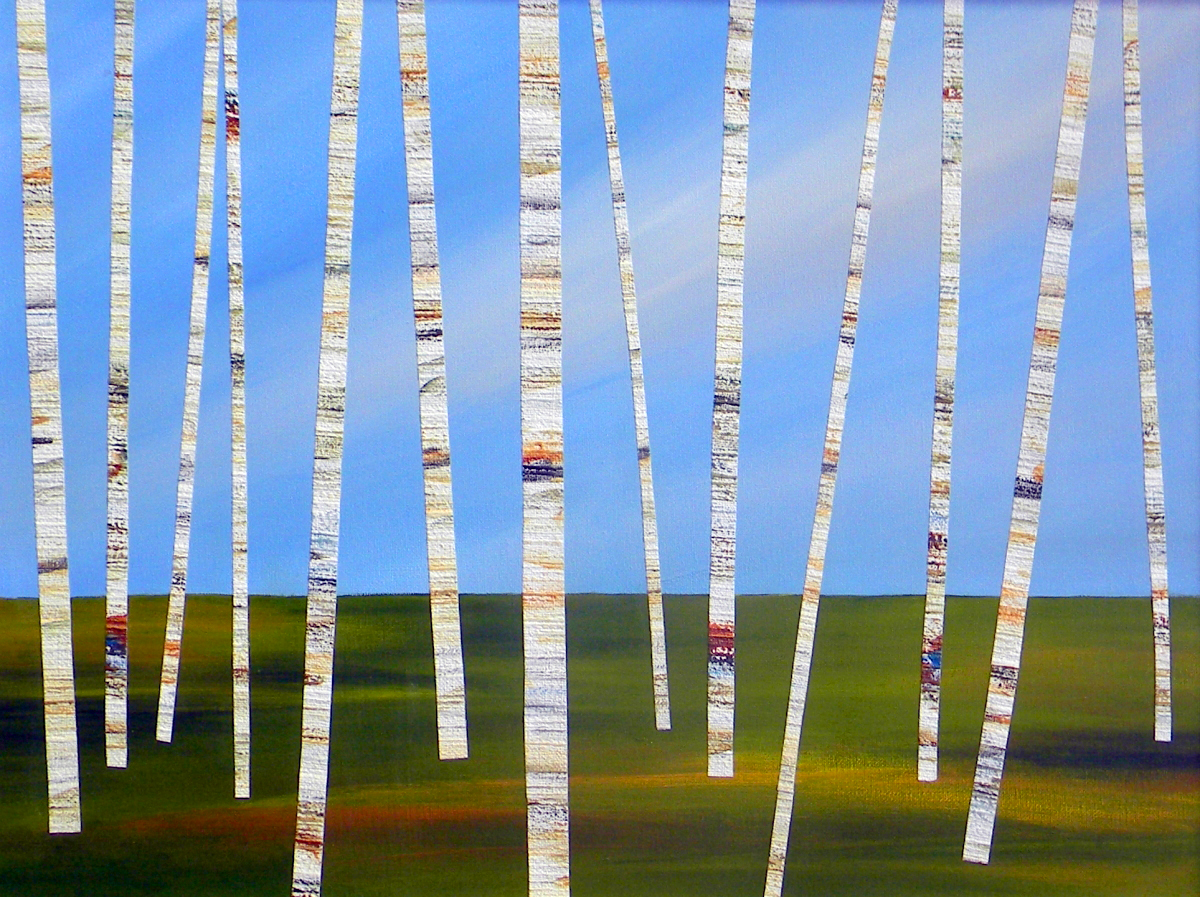 Himmel, Susan
"Painting has become my looking glass and way of examining so much of life. I am passionate about art and how it impacts our communities for the better. Art is alchemy."
Susan Hartley Himmel is a watercolorist and mixed media painter who has been creating art in one form or another all her life. After spending twelve years in the Berkshires, she has recently returned to the Capital District in New York State. For much of her life she created three dimensional art – pottery, jewelry, and wall hangings. Then in 2006 she fell in love with watercolors during a week-long intensive workshop, Painting and Yoga in the Berkshires, at Kripalu Center for Yoga and Health in Lenox, Massachusetts. Himmel immersed herself in drawing and painting classes at IS183 Art School of the Berkshires over the next few years.
Always a keen observer of nature, Himmel finds inspiration for her work in the hill towns, the deep forests, wildflower paths, mountain lakes, river rocks and clouds, as well as in everyday objects.
Her work has been featured in solo and group shows in galleries and non-traditional settings in the Northeast, especially in the Berkshires. Paintings hang in a number of private collections here and abroad.
Artist Statement
I record my impressions of the world around me in brush strokes, whether through the use of watercolors alone or with mixed media. To do so, I explore the dance of light and shadow, interesting contrasts and shapes that tell me a story. I love using bold colors and creating many textured layers. I am fascinated by the symbolic, the surreal, and all of nature.
As a result of my journey as an artist, the way I experience the world has changed. Painting has become my looking glass and way of examining so much of life. I am passionate about art and how it impacts our communities for the better. Art is alchemy.
Selected Exhibitions
Solo
2015  Unusual Wedding Rings & More, Pittsfield, MA
2014  Whitney Center for the Arts, Pittsfield, MA
2009  Senator Downing's District Office, Pittsfield, MA
Group
2015  Whitney Center for the Arts, Pittsfield, MA
2014  Pop Up Gallery Lichtenstein Center for the Arts, Pittsfield, MA
2014  Nuarts Studios + Gallery, 2 Person Show, Pittsfield, MA
2013  Lichtenstein Center for the Arts, Pittsfield, MA
2012  Treehouse Gallery, Pittsfield, MA
2012  Lichtenstein Center for the Arts, Pittsfield, MA
2010-2012  The Inn at Stockbridge, Stockbridge, MA
2010  Small Works Show, Welles Gallery, Lenox, MA
2010  Housatonic Valley Art League, Sheffield, MA
2009  Housatonic Valley Art League, Sheffield, MA
2008  Small Works Show, Welles Galley, Lenox, MA
2008  Becket Arts Center, Becket, MA
2008  "ArtCircus", Storefront Artist Project, Pittsfield, MA
2007  Housatonic Valley Art League, Sheffield, MA
Affiliations
Albany Center Gallery, 2015
Berkshire Art Association, 2nd Vice President, Board of Directors, 2008-2014
Housatonic Valley Art League, 2007-2014
First Fridays Artswalk, Pittsfield, MA 2007-Present
Category
Painting, Watercolor