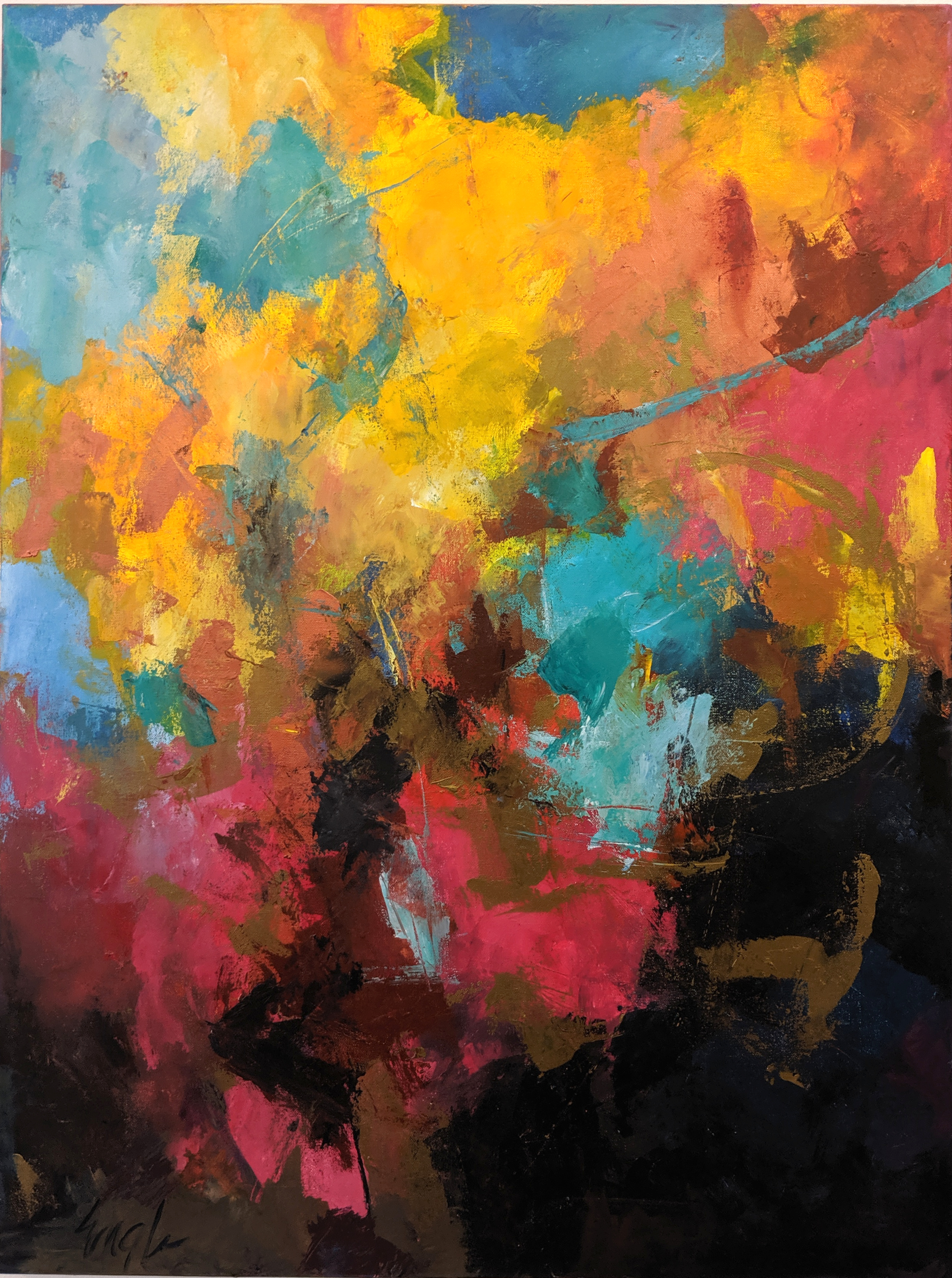 Engle, Maureen
Maureen Engle is a native New Englander who has spent significant time painting in the Berkshires of western Massachusetts and the Northeast Kingdom of Vermont. She was raised in Lenox Dale, Massachusetts, a small mill town sandwiched between Lee and Lenox that spills out along the banks of the Housatonic River. She currently resides near the mountains of northern Georgia and remains inspired by woodlands and their environs. Maureen brings God's gifts of the peace and joy found in nature to her paintings and then, to the viewer.
Best known for her depictions of colorful hay bales and birch trees, Maureen strives to create a narrative around subjects found in the natural world. Her hay bales are scattered in the field, infused with sunlight and color to denote hard work, harvest, sustenance. Birch trees grow straight, clustered and entangled with colors bouncing off their white bark—pink, lime and purple. Her southern pines are tall and lanky as teenagers, a bit unbalanced by unwieldy arms and legs.
Maureen works in a variety of medium and across different genres, translating the energy and depth of a tumbling brook or shadow pattern into pure abstraction, and across medium with beautiful watercolors including award- winning portraiture.
An intuitive painter, Maureen applies impasto paint with a palette knife in layers and enjoys watching the piece evolve. She is a dedicated art instructor and conducts classes and workshops at the Spruill Center for the Arts in Atlanta, Georgia, and Alpharetta Art Center, Alpharetta, Georgia, teaching oil, acrylic and watercolor painting.
Current Galleries:
Frameworks Gallery, Marietta, Georgia Webb-Marsteller, Atlanta, Georgia Wild Oats and Billy Goats, Decatur, Georgia Sunshine Village Gallery, Watkinsville, Georgia
Noteworthy Exhibitions:
Spotlight on Art Juried Artist Market–Exhibitor, 2012–2019
Spruill Arts Student & Faculty Juried Exhibition, Spruill Center for the Arts–Best Faculty Award for Beatrice (watercolor on paper), 2017
Tops and Bottoms, Solo Exhibit–Ventulett Gallery, 2015
Metro Montage juried exhibition, Marietta Cobb Museum of Art–Exhibitor, 2008, 2013
Notable Commissions:
Eighteen paintings of various sizes and featuring a diversity of subjects commissioned by PM Realty Group for use in renovated commercial spaces in Atlanta, Georgia, 2013–2017
Sopes Creek and River Birches–paintings commissioned for the WellStar Health Park in East Cobb, Georgia, 2014
On the Green, Fall Tree Trio, and Poppy Field–paintings commissioned by the Horseshoe Bend Country Club, Roswell, Georgia, 2013
Category
Acrylic, Painting