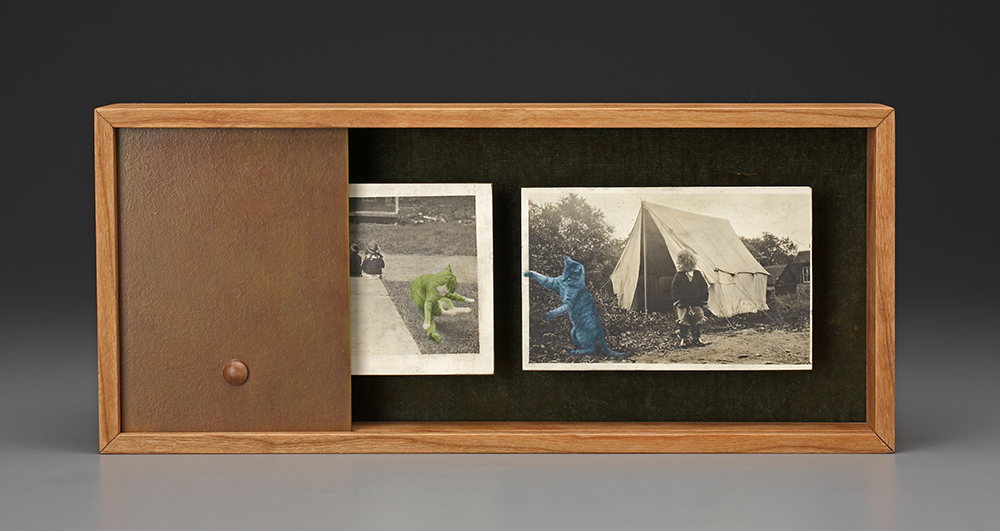 Christensen, Laura
Laura Christensen first knew the suburbs and farmlands of the Midwest. Influences gradually expanded to include the buzz of New York City, the valleys and peaks of the Rocky Mountains, older mountain woods of New England, fifteenth century Italian frescoes, telemark skiing, and real maple syrup.
She's studied German, Economics, and Art History, in addition to accomplishing the M.F.A. in Drawing. Museums and galleries throughout the U.S. and abroad have featured her work. Within the last several years, Laura was awarded an Artists' Resource Trust (A.R.T.) Grant, a fund of the Berkshire Taconic Community Foundation and an Individual Artist Grant, a fund of the Cultural Council of Northern Berkshire, a local agency supported by the Massachusetts Cultural Council.
Laura shares her home in the Berkshires with her playful and creative husband, Greg, and two purring cats, Jupiter and Masaccio.
Vintage photographs serve as my canvas.  I do not make copies of them. I paint directly onto each one.
Since many old photographs are preserved as family legacies and cultural artifacts, my alterations may seem destructive, or subversive, or poignant. I do it to create new stories.
In my work chickens race past a serious family, green and blue cats play fight between photos, angels crowd behind a woman watering her garden. For most painted photographs I build small architectural cabinets. Some act as custom handmade frames. Others work as cases or altars with doors that open and close or slide left and right.
These composite images and objects offer mysterious new narratives of memory and history, shifting meanings, poetry, painting, photography, context, and transformation.
"The intriguingly altered worlds that Laura creates are wrought with both precision and inventiveness. Their seamless blend of photograph and fiction convincingly suggests the presence of magic in ordinary life."  – Sharon Bates, Director, Art Culture Program, Albany International Airport 
Selected Exhibitions
2014   Spotlight on Small Brattleboro Museum and Arts Center Brattleboro, Vermont
2013   Some Assembly Required Albany International Airport Albany, New York
2012   Joyce Goldstein Gallery Chatham, New York
2011   A Book About Death: The Ties That Bind – ABAD 23 The Second Avenue Firehouse Gallery Bay Shore, New York
2010   A Delectable Decade MASS MoCA North Adams, Massachusetts
2009   Relics of Futures Past Greylock Arts Adams, Massachusetts Ferrin Gallery Pittsfield, Massachusetts
2008   Faculties of Art Gallery 51 Massachusetts College of Liberal Arts North Adams, Massachusetts
2007   Boxed Sets: Assembling Objects, Images, and People MASS MoCA North Adams, Massachusetts
2006   Humanity: Contemporary Art of the Humane Image Gallery 51
2005   [re]Collections (catalogue available) The Arts Center of the Capital Region Troy, New York
Awards and Honors
2014   Adjunct Faculty Award, Massachusetts College of Liberal Arts, North Adams, Massachusetts
2011   Individual Artist Grant
2007   Artist's Resource Trust (A.R.T.) Grant
1999   Artist Residency Anderson Ranch Arts Center Snowmass Village, Colorado
1994 – 1996 George B. and Marie Eccles Caine Foundation Scholarship Utah State University Logan, Utah
Exhibited in Good Purpose Gallery April 7, 2015 – May 18, 2015.