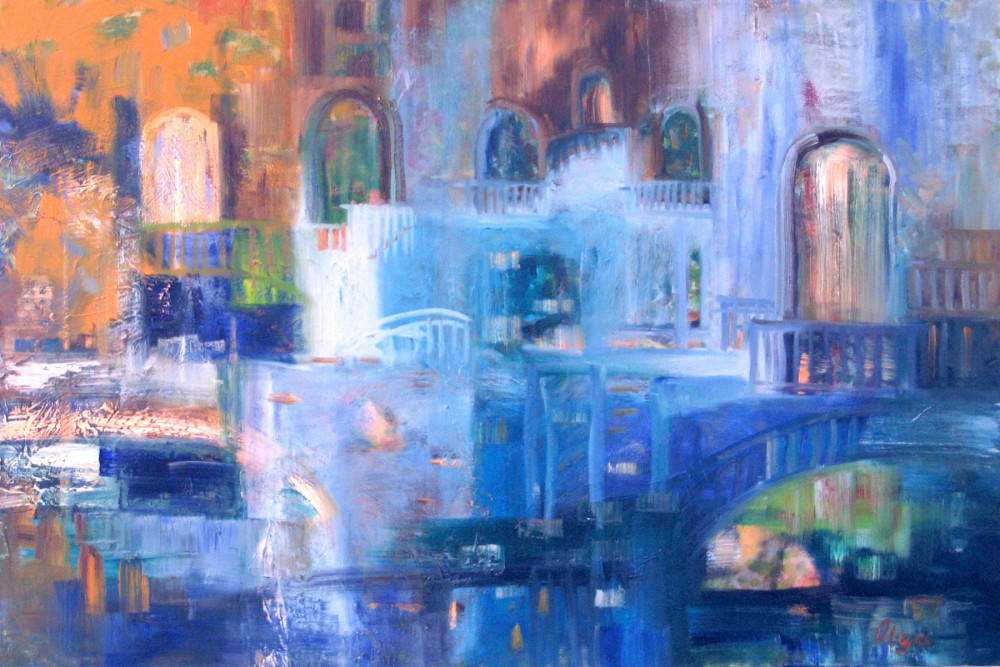 Gernovski, Olga
"My acrylic and oil paintings reflect a wide range of places, influences, interests, subjects, emotions and experiences." 
A journalist who likes my work calls me a "Contemporary Romantic". I think maybe it's true, because my paintings express what it is to be human, to perceive, to feel deeply, to appreciate and respond to rapturous music for example. My paintings capture mood, music, moment, and movement. As in life, nothing is stationary, but always in motion.
Painting is quite a dynamic process for me. Before I begin a still life or floral painting, I first intensely gaze at the subject. This is like a meditation for me. After a short while, I begin to paint. I am disciplined and draw upon my knowledge, but always leave myself open to the exquisite possibilities of my medium, deep emotions and forces of nature.
At times I paint to music. When you see my tango paintings and some of my abstracts, look for my brush strokes. Like the tango dance steps themselves, my brush strokes are confident, energetic, exciting and exact. They need to be like this to fire up emotions and to stir the soul. To paint is to express a life beyond words; that is my passion.
"Being a visual artist is the pure excitement of using a brush to express movement by deliberately applying paint to the surface. To live and feel each moment as an interpretation of color."
Olga Gernovski was born in the Ukraine, where her art education began. She trained intensively in painting and drawing for several years. In 1994 Olga and her family moved to Boston, where she completed her formal education at the Art Institute of Boston. Since then Olga has studied and trained with such masters as Kim English, Dennis Perrin and Peggi Kroll-Roberts. Over time, Olga has developed a unique personal style with bold brush strokes and deliberate color application.
Olga's paintings are held in private collections in several countries including the United States, United Kingdom, Israel, Switzerland, Holland, Russia and Ukraine.
Exhibited in Good Purpose Gallery October 10, 2015 – November 17, 2015.
Category
Acrylic, Oil, Painting