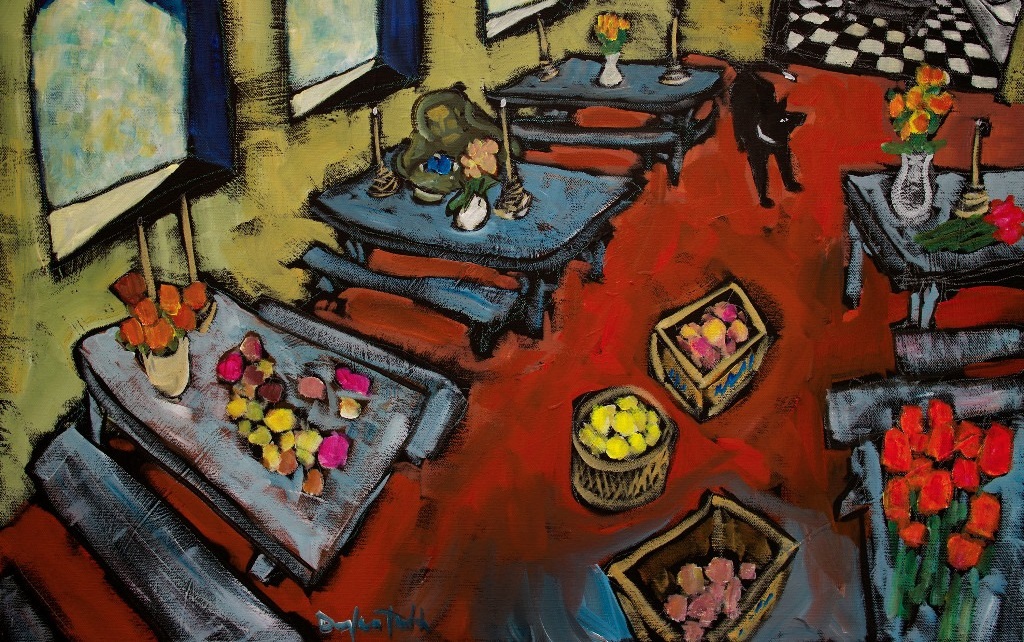 Truth, Douglass
"I'm Douglass Truth. I tell stories. The stories I tell can present as paintings, a 90-minute one-woman show, a book, a video, a story about a workshop about stories.
I started painting quite by accident when I was over forty years old. My three books so far: I Am A Dog, Revolution of Flowers, and Everything I Know About Death. I write and perform one-man (or woman, as the case may be) shows: An Intimate Evening with Death, Herself, and, developing now, a new show called 2024 • My 5-Year Plan And Why It Failed. I will get on almost any stage and tell stories about almost anything. I shoot videos, in which I talk about my favorite topics: Death, Art, Life, Science, and Dogs.
My art has been shown in galleries in New York, Massachusetts, Connecticut, Arizona, Indiana, and California. I have no training in art, and had no idea I had any inclination for it until I happened to have a brush in my hand at a New Year's Day party in 1995. I do love it. It's a non-verbal form of communication that I sorely need, or, more likely, can't do without. You can see a sample of my work at douglasstruth.com.
My show An Intimate Evening with Death, Herself started in Beckett, MA in 2006, and has been performed almost 100 times, coast to coast. It's won Best of the Fringe Festival, had two shows at the prestigious United Solo Theater Festival in NYC, two shows at The Marsh Theater in San Francisco, one of which shows was also part of the 2018 Let's Reimagine End of Life event in San Francisco. I've done the show at art galleries, churches, convalescent homes, backyards, decks, fringe theater festivals, and, of course, theaters. Please examine the website deathherself.com for more information.
I am now painting and writing and shooting as much as contingencies and the grinding movements of tectonic plates allow. I simply have nothing else to do. And I mean that in the best way."
Category
Painting, Photography