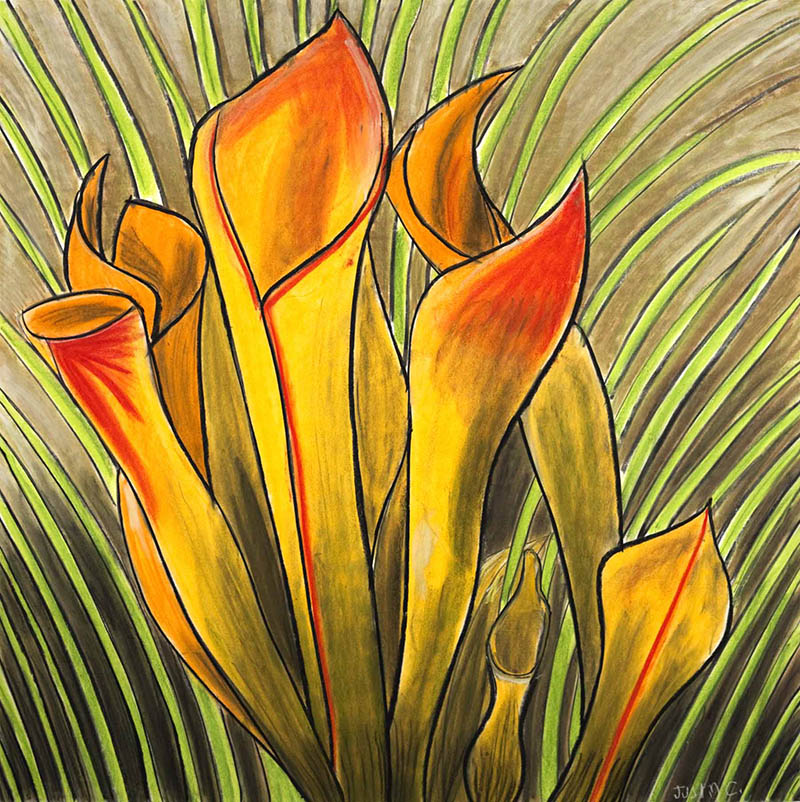 Canha, Justin
Justin Canha is an accomplished artist who happens to be autistic. His childhood passion and whimsical style for drawing and painting animals, plants and cartoon characters showcase his clever sense of humor and unusual sensitivity to nature, human and animal relationships. Canha also creates emotive charcoal portraits and painting as well as computer-generated animations of invented characters.
Canha's work first appeared on the New York art scene in 2005, in the Autism-Asperger's Art exhibition at Ricco-Maresca Gallery. Since then, his work has been exhibited at universities, galleries and museums in the United States.
He was the subject of an extensive profile in the New York Times article "Autistic and Seeking a Place in an Adult World", by Amy Harmon in September of 2011. Justin has also been featured in three documentary films – "Autism: A Different Way of Communicating", "Sidecars" and soon to be "Don't Foil My Plans", which showcase aspects of his autistic and artistic life. Additionally, Canha's work was highlighted in the book "The Art of Autism: Shifting Perceptions" by Debra Hosseini.
Justin Canha was honored at the McCarton Foundation's "Genius of Autism" events in 2011, 2012 and 2013. He has presented at various autism conferences such as, Autism New Jersey and YAI in New York City in 2012, and the ASD Symposium in Providence, Rhode Island in 2013.
Justin has illustrated books such as "Pedro's Whale", by Paula Kluth and Patrick Schwarz, a simple but powerful story which introduces educators to one of the best, most effective inclusion strategies: using students fascinations to help them learn and make friends.
When he is not creating his own art, Canha works as a freelance illustrator and story boarder/animator as well as a part-time cake decorator and an Assistant Elementary School Art Teacher.
Exhibitions
2012
"Autism New Jersey"
Autism New Jersey Annual Conference – Atlantic City, NJ
"Genius of Autism"
Edison Ballroom – New York, NY
"Strokes of Genius"
World Autism Awareness Day
United Nations Plaza – New York NY
2011
"Genius of Autism"
Carnegie Hall – New York, NJ
"Art Connections"
George Segal Gallery – Montclair State University, Montclair, NJ
Outsider Art Fair
Ricco Maresca Booth – New York, NY
"Carnivorous and Other Exotic Plants"
Ricco Maresca Gallery – New York, NY
"Carninorous and Other Exotic Plants"
Nick and Toni's – East Hampton, NY
"The Art of Autism"
Soho Digital Art Gallery – New York, NY
"The Art of Autism"
Good Purpose Gallery – Lee, MA
2010
"Drawing Autism"
New York Center for Child Development – New York, NY
Outsider Art Fair
Ricco Maresca Booth – New York, NY
The Brucennial 2010: "Miseducation"
Soho Gallery – New York, NY
"Strokes of Genius"
Salamundi Art Club – New York, NY
"Art from the Inside Out"
Visceglia Art Gallery at Caldwell College – Caldwell, NJ
2009
Outsider Art Fair
Ricco Maresca Booth – New York, NY 
Heroes for Autism
The Avalon – Hollywood, CA
The JCC in Manhattan
New York, NY
Don't 'dis' the Ability
Manhattan Children's Center – New York, NY 
Art First
University Medical Center at Princeton – Princeton, NJ
"Strokes of Genius"
United Nations Plaza – New York, NY
"The Art of Justin Cahna"
Ruth S. Harley University Center – Garden City, NY
2008
Outsider Art Fair
Ricco Maresca Booth – New York, NY 
Westminster Art Gallery
Bloomfield, NJ
The JCC in Manhattan
New York, NY
Art Chicago
Ricco Maresca Booth – Chicago, IL
Sprout Film Festival
The Metropolitan Museum of Art – New York
Timeless. The Art of Drawing
Morris Museum – Morristown, NJ
2007
Neurodevelopment Center
Providence, RI
The JCC in Manhattan
New York, NY
2006
Michael Schimmel Center for the Arts
Pace University – New York, NY 
Montclair Public Library
Montclair, NJ 
Rhode Island Convention Center Art Exhibition, ASD Symposium
Providence, Rhode Island 
"Transparency"
Beacon Firehouse Gallery – Beacon, NY
2005
"Charcoal" Exhibit
Luna Stage Theater– Montclair, NJ
The Cooper Union Great Hall Gallery
New York, NY
"Taboo"
Makeready Press Gallery Studio – Montclair, NJ
Montclair State University Art Galleries
Montclair, NJ
Ricco Maresca Gallery
New York, NY
Category
Acrylic, Painting