We are thrilled to present Oil and Water – DO MIX!, a colorful collaboration between two artists whose painting styles could not be more different and yet share a striking synergy together. Marguerite Bride's realistic and almost architectural watercolor paintings depict farmlands, barns, country towns, lighthouses and other rural locations. Karen Jacobs' oil paintings express vibrant and warm skyscapes and abstract landscapes. The exhibition runs from Wednesday, June 28th through Monday, August 7th. We hope you'll join us in the gallery on Friday, June 30th from 4:30 pm to 6:30 pm for a much-anticipated opening reception and an opportunity to mingle with Marge and Karen and hear about their art processes and passions.
Marguerite Bride has been painting watercolors of the Berkshires and New England for over 20 years. She currently works from her home studio. A resident of Pittsfield having moved here in 1995, she has been painting ever since. Her artwork displays the beauty of the Berkshires and includes paintings of recognizable Berkshire and New England scenes including Hancock Shaker Village. Besides traditional watercolor on paper, she will also be showing watercolors on canvas, allowing for looser and more textural treatment of the subjects.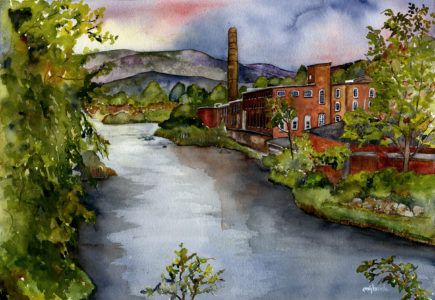 Karen Jacobs is an accomplished painter of contemporary landscapes. Her paintings and prints are of specific moments of her favorite places and she uses the landscape as a metaphor to express emotional moments in life. Since moving to the Berkshires in 2013 her work has taken on new depths, not just using sky, horizon lines and bodies of water, but also tree tops, mountains, and sunsets over rolling hills. Karen takes an "ordinary" Berkshire setting and makes it her own. Each new work displays more than just the natural flora and atmosphere of the location. Her artwork shows life moments exploring mood and meaning beyond the setting alone.
The Gallery is honored to host this extraordinary exhibit of two well-known and well-loved local artists.
We look forward to seeing you and enjoying this exhibit together!