Good Purpose Gallery is pleased to present Esperanza Vive!, featuring work by Dr. Michael McManmon , founder of the College Internship Program (CIP). Focusing on the gorgeous scenery and colorful life of his new home, his pieces invite the viewer to go on a visual journey of Mexico. Join us for an opening celebration on Saturday, August 19, from 5 pm to 9 pm to enjoy Mexican food, music, and art. The event is open to the public at no cost and the exhibition is open from August 8 until October 2.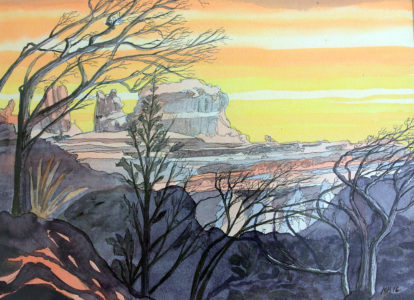 Dr. McManmon began exploring his artistic passion by drawing trees, and now works with a variety of mediums including pen, ink, watercolor, tempura, and photography. Dr. McManmon is also a speaker, writer, and psychologist, as well as the founder of the College Internship Program. CIP is a post-secondary program serving students on the Autism Spectrum and those with Learning Differences. Dr. McManmon is diagnosed as having Asperger's Syndrome and continually supports and exhibits within the Good Purpose Gallery. By exhibiting his unique pieces in the Gallery, we get to see how his style is unique and vibrant, embracing colors and shapes in distinctive ways.
The Gallery is honored to host this exciting and colorful exhibition of artists of various ages and ranges of neurodiversity. We seek to highlight and display their talents and this show is a wonderful display of artistic ability.
The Good Purpose Gallery is open throughout the week from 10 am – 4 pm but is closed on Tuesdays. We look forward to seeing you and enjoying this exhibit together!