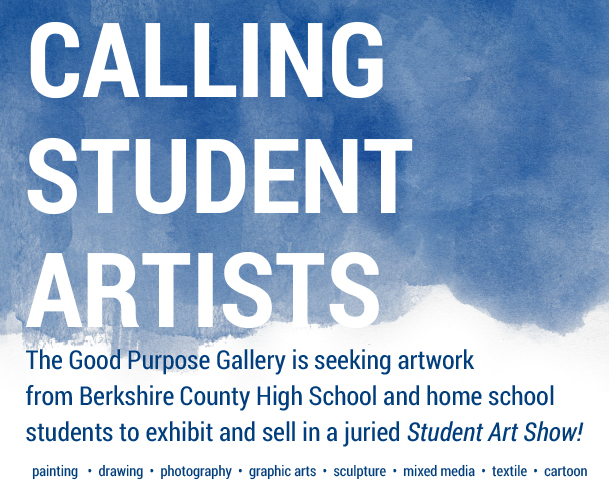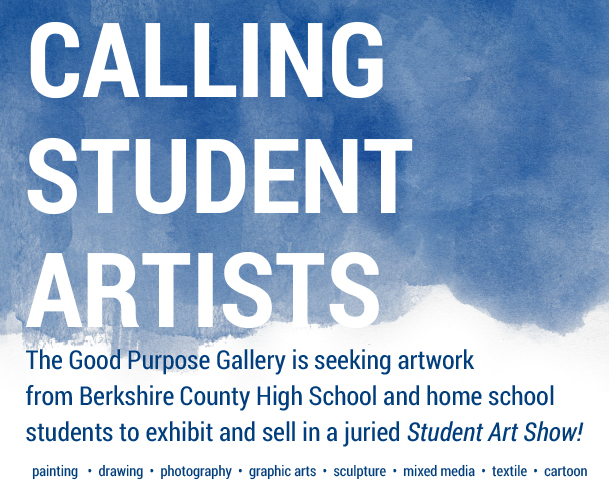 We will once again be presenting the Juried Student Art Show featuring works by local high school and home school students. 
The Gallery is thrilled to be highlighting the skills of the young artists of the Berkshires. We look forward to receiving your submissions and exhibiting your works!
If you are a student between the ages of 14 and 18 and would like to participate, please take a quick photo of your art and follow the link > entry form.
If you have any questions, feel free to call the Gallery at 413-394-5045.
Timeline
March 16, 2018: Submissions due. Notification of acceptance will be sent 1-2 weeks after the deadline.
April 6–9, 2018: Accepted pieces are need to be brought to the Good Purpose Gallery.
All accepted wall pieces must be ready to hang, preferably by frame, or the piece will be rejected upon arrival.
All accepted pieces should come with a label on the back with the name of the artist, title, and contact information.
Please contact us regarding drop off time so we can prepare a space for the piece(s).

April 13, 2018: Gallery Opening  4:30 to 6:30 pm – bring your family and friends and enjoy some snacks and music on us!
May 8, 2018: Exhibition de-installation and art pick-up (time can be scheduled).
*   *  *
The Good Purpose Gallery is connected to the College Internship Program for students on the Autism Spectrum and with Learning Differences. If your student is also on the Spectrum, we will provide special consideration for a place in the exhibition, as we will also be featuring CIP students.