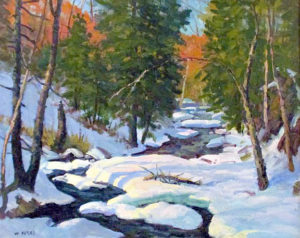 We are thrilled to announce that Walt Pasko will be presenting a live demonstration on his art process with oil paints at the Good Purpose Gallery on Saturday, January 28th at 3:00PM.
His demos draw quite a crowd, so please arrive 10 minutes prior, if possible, in order to secure a seat. You will enjoy the experience of art making up close as you watch Walt create in real time and engage in an informal conversation about artistic processes.
Gallery is presenting the 'Good Tidings' Holiday Show featuring Anne and Walt Pasko artwork into February 21st. This means, if you are looking for that special Valentine's Day gift, you will no doubt find it among many distinctive gifts created by local artists. And, of course, Anne Pasko's mixed media pieces and Walt Pasko's stunning oil paintings are also fabulous gifts for loved ones. Both artists are receiving rave reviews for their artwork in this show. Gallery receives new work from each on a weekly basis in order to fill the demand.